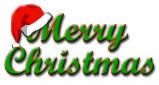 To all of you!
I officially survived the night...wooohooo... It wasn't too bad.. We ended up going to church beforehand and I thought I was going to die becuz I felt soooo horrible. I thought I was going to hack up a lung right there in the middle of O Holy Night. My throat felt swollen and I was dry heaving every 5 seconds. Not to mention that I was up all night and all day getting things ready and the house semi cleaned. We ate and opened gifts and got home around 2am. Man it was a long long night! I got a lot of clothes and new shoes. And we got a crock pot! YAY!!! We almost bought one and now glad that we didn't becuz we got a huge one!
That is the bad boy that we got! Yea that is the only picture on photobucket that I could find of one that is just like ours... HAHA Now I know how much they spent on it! lol Just call me lazy.. I could have went out to the living room and took a picture of ours...but hey I am just waking up and don't feel like moving just yet. Now watch..I'm going to publish this post and go back and have to edit it becuz the picture is to big or something! lol oh well... it will just keep me busy!
This is my beautiful wife posing in her newest addition of collection of New England Patriots wear! Oh she LOVES her Patriots! Her aunt and uncle went to Massachusets a few months back and picked her up this hoodie and a pj set! She just fell in love with them! Her mom and I have her a New England Patriots watch and hat on the way for her birthday! So then she will be all set! lol Now if only I could find her boxers and a sports bra in New England Patriots wear we would be set and she would be in heaven !!!
I got tons of outfits! OMG! I think it completely replaced my existing wardrobe but no I don't have pictures of me to plaster up here! lol Though her aunt and mom did make me try on EVERY SINGLE outfit and model them so that they could inspect and make sure everything fit just right! lol Yea that is the point of the night where I looked at the wife and said.... "UMMMM I think it's time to go now!" But hey I survived!
And now it is Christmas day and I am doing what I do best.. NOTHING! The wife is asleep and I am up blogging away! It's about 1pm here in good old Ohio and we didn't eve get snow today. The wife has to work all night tonight and in the morning we leave for :
Yup we leave for good old Georgia in the morning! It should make for an interesting drive since the wife won't be coming home and sleeping.. She will be coming home packing her bad and we will be getting on the road! LOL!
Well I dont' have much more to add or input. I will blog for you all I'm sure over the weekend or later today! So signing off now,

Sabrae Carter