So today was the Superbowl! Man I had a fun fun time on Twitter! We all followed the game closely, we all shouted (into the computer of course). Man that game gave me hives towards the end! LOL!!!! But lo and behold my STEELERS WON!!!!
YES MY STEELERS WON!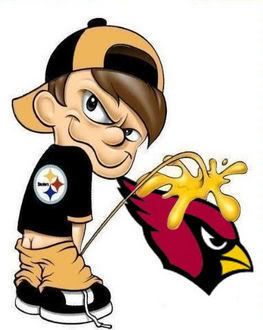 I know I know how mean of me! But it was to great NOT to put up there! LOL!!!!
While spending the Superbowl alone (wife is at work) it was fun! Like I stated I spent the entire time in front of the tv and on Twitter! Made a few new friends and met a great blogger that is kinda like me in the spunk department!!! You can check out her blog! It's called
For the Love of Babies
I also have her button over there on the right hand side of my blog!

I seriously think I tramatuized my dog during the Superbowl! LOL! Everytime I yelled at the TV and jumped up and down the poor guy would run and peek around the side of the bed then towards the end he jumped on the bed and stared at me (like you see here) I so wish I could read his mind right then and there! lol
Oh wat else???? I know I am forgetting something! OH yea I forgot, ALMOST, that I recieved a blogging award from That Damn Expat
It's called Premio Dardos award and it goes a little something like this:
"This award acknowledges the values that every Blogger displays in their effort to transmit cultural, ethical, literary, and personal values with each message they write. Awards like this have been created with the intention of promoting community among Bloggers. It's a way to show appreciation and gratitude for work that adds value to the Web."
The fine print:
1. Accept the award, post it on your blog together with the name of the person who granted it to you, along with his/her blog link.
2. Pass the award to 15 other blogs that you feel are worthy of this recognition. Remember to contact each of them to let them know they have been chosen as recipients.
So yea I accepted the award of course!! But I was only told of it last night! LOL! So I haven't decided whom I want to pass it on to just yet! lol But rest assured that I will here in the next day or so!!! So be on the look out becuz it might just be YOU!
So now it is 1am here in Ohio, I'm tired and still have 7 hours til the wife gets home!!!! So if you are up leave me a comment or email me or something! LOL!!! Don't force me to go be the domestic diva and clean or re-arrange closets or something!
Signing off,
Sabrae Carter
P.S. If I totally forgot something just tell me!