Our baby boy Clyde passed away quitely this morning at the Akron, Ohio animal hospital. We are sad beyond belief.
The descision was NOT made lightly. But what he had was incurable according to the vet and he was suffering very badly. I've been non stop crying since we made the descision at 5:45am!
He passed very peacefully and soundly at 6am. He was not alone at all and we were there to hold him in his passing.
Here are some last pictures of Clyde before they took him from us to be put to sleep.. I am still crying like a baby right now and everyone on Twitter, YahooGroups and you have been very kind with your emails and words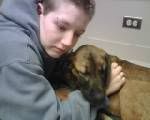 The wife and Clyde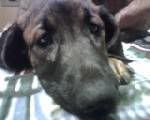 Clyde right before they took him away!
YOU WILL BE GREATLY MISSED AND MOURNED GOOD BUDDY! WE LOVE YOU!
R.I.P. CLYDE JACKSON STILL 1/4/09 6AM
Signing off,
Sabrae & Amy